Numismatický sborník 31 (č. 2)
Do tohoto svazku Numismatického sborníku bylo zařazeno celkem osm studií a sedm zpráv o mincovních nálezech:  
Evgeni Paunov: The Guljancy hoard (RRCH 377) of Roman Republican denarii: some notes on its composition; Arkadiusz Dymowski – Andrzej Romanowski: Finds of Roman Republican coins from the Przeworsk culture settlement concentration in the middle Prosna drainage; Szymon Jellonek: The influx of the roman coins in Wisłoka valley (Poland) The influx of the Roman coins in Wisłoka valley (Poland);  Jiří Lukas – Miroslav Hus: Sbírka českých raně středověkých mincí Západočeského muzea v Plzni díl II. české a moravské denáry z druhé poloviny 11. a počátku 12. století; Herfried E. Wagner: Numismatische Zeugnisse für dynastische Allianzen von Böhmen, Österreich und Ungarn im Mittelalter bis zur Zeit der jagiellonen erbansprüche der feudalherren und nationale Interessen der Bevölkerung; Roman Zaoral: Oběh českých florénů v itálii The circulation of Bohemian florins in Italy;
Marzena Grochowska-Jasnos: Dukat księcia pruskiego Albrechta Hohenzollerna w skarbie z Głogowa Ducat of Duke Albert of Prussia from the Głogów hoard; Jan John: Neznámá chyboražba kiprového 75 krejcaru ferdinanda II. An unknown defective kipper 75-kreuzer struck under Ferdinand II.; Martin Kuča – Jan Videman: Denáry Konráda I. Brněnského nalezené v Kralicích nad Oslavou (okr. Třebíč); Petr Schneider: Nález svitku brakteátů z Pacova (okr. Pelhřimov); Ondřej Černohorský – Lucie Prostináková: Depot pražských grošů Václava II. a Jana Lucemburského z Fojtovic (okr. Teplice); Jan Cihlář – David Vích: Drobný hromadný nález pražských grošů z Jevíčka, K. Ú. Jevíčko-Předměstí (okr. Svitavy); Lukáš Richtera – Josef Kulhánek: Nález pražského groše Ludvíka Jagellonského u Volyně (okr. Strakonice);   
Ondřej Černohorský: Nález depotu mincí ze Šanova nad Jevišovkou (okr. Znojmo); Vojtěch Brádle: Drobný mincovní nález z Těchlovic (okr. Hradec Králové).  
Kompletní kniha zdarma (v pdf):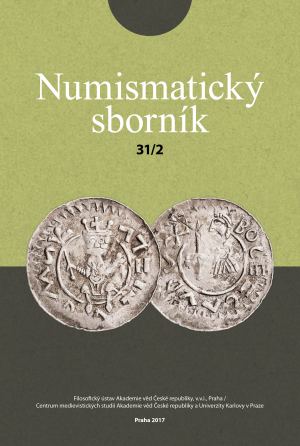 published: 17th April 2019
165 pages, paperback
ISBN 978-80-7007-566-1