Acta Comeniana series
The Acta Comeniana series ties into the Archive for Research on the Life and Work of J. A. Comenius, published since 1910. Since the mid-1990's, Acta Comeniana has begun exploring the wider issue of the intellectual history of the early modern times, and today its review section plays an important role in researching the cultural and intellectual history of early modern times. More information is available on the website of the Comeniology Department.
Acta Comeniana is indexed in the following scientific databases: SCOPUS (Elzevier), ERIH (European Reference Index for the Humanities), CEJSH (Central European Journal of Social Sciences and Humanities), and EBSCO.
The series is managed by Vladimír Urbánek (editor-in-chief) and Lucie Storchová.
Publications are in English and German, alternatively, in French.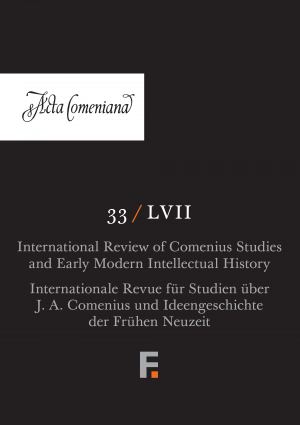 | title | author | published |
| --- | --- | --- |
| Acta Comeniana 33 | Lucie Storchová, Vladimír Urbánek (eds.) ... | 21st August 2020 |
| Acta Comeniana 32 | Lucie Storchová, Vladimír Urbánek (eds.) ... | 22nd April 2020 |
| Acta Comeniana 31 | Lucie Storchová, Vladimír Urbánek (eds.) ... | 14th June 2019 |
| Acta Comeniana 30 | Lucie Storchová, Vladimír Urbánek (eds.) ... | 2018 |
| Acta Comeniana 29 | Lucie Storchová, Vladimír Urbánek (eds.) ... | 6th April 2017 |
| Acta Comeniana 28 | Lucie Storchová, Vladimír Urbánek (eds.) ... | 7th March 2016 |
| Acta Comeniana 27 | Lucie Storchová, Vladimír Urbánek (eds.) ... | 25th March 2015 |
| Acta Comeniana 26 | Lucie Storchová, Vladimír Urbánek (eds.) ... | 13th December 2013 |
| Acta Comeniana 25 | Marta Bečková, Lucie Storchová, Vladimír ... | 1st October 2012 |
| Acta Comeniana 24 | Marta Bečková, Lucie Storchová, Vladimír ... | 29th August 2011 |
| Acta Comeniana 22-23 | Marie Bečková, Lucie Storchová, Vladimír ... | 9th February 2010 |
| Acta Comeniana 19 | Marta Bečková, Lenka Řezníková, Vladimír ... | 13th September 2009 |
| Acta Comeniana 20-21 | Marta Bečková, Lucie Storchová, Vladimír ... | 6th January 2009 |
| Acta Comeniana 18 | Marta Bečková, Lenka Řezníková, Vladimír ... | 2004 |
| Acta Comeniana 17 | Marta Bečková, Vladimír Urbánek (eds.) ... | 2003 |
| Acta Comeniana 15-16 | Marta Bečková, Lenka Řezníková, Vladimír ... | 2002 |
| Acta Comeniana 14 | Marta Bečková, Vladimír Urbánek (eds.) ... | 2000 |
| Acta Comeniana 13 | Marta Bečková, Vladimír Urbánek (eds.) ... | 1999 |
| Acta Comeniana 12 | Vladimír Urbánek (ed.) | 1997 |
| Acta Comeniana 11 | Vladimír Urbánek (ed.) | 1995 |
| Acta Comeniana 10 | Marta Bečková (ed.) | 1993 |