Acta Comeniana 24
International Review of Comenius Studies and Early Modern Intellectual History
The volume of Acta Comeniana 24 (XLVIII) comprises six articles with the recent results of research on early modern intellectual history and history of philosophy. The volume includes also an extensive review section and the obituaries of Werner Korthaase (written by Jiří Beneš) and Claudio Stroppa (written by Martin Steiner). The contributions are published in English or German.
Radmila Pavlíčková analyses and contextualises five funeral sermons of the controversial Jesuit preacher Georg Scherer (1540–1605), which have been ignored by scholars up to now. Martin Holý attempts to comprehend the role of the Bohemian Brethren schools in the upbringing and education of the upper classes of the Kingdom of Bohemia and the Margravate of Moravia and, to a lesser extent, of the foreign nobility. On the basis of new evidence from the Bohemian Brethren Archives discovered in Mladá Boleslav, Markéta Růžičková attempts to estimate the content of the teaching materials and textbooks used at the Academy of Bremen at the beginning of the seventeenth century. Mariola Jarczykowa presents the fate of Christian Ambroży Kochlewski (1627–1647), a promising but untimely departed Polish disciple of Jan Amos Comenius. Leigh T. I. Penman puts forth a transcription and annotated English translation of a significant letter (1630) from the Bohemian theosopher and prophet Paul Felgenhauer (1593–c. 1677) to the Leipzig alchemist Arnold Kerner (c. 1590–in or after 1627); the letter is accompanied by an introductory study. Petr Glombíček considers the question of what role the notion of common sense plays in Descartes' philosophy.


Published ten or more years ago, therefore, the price has been reduced to 50 percent.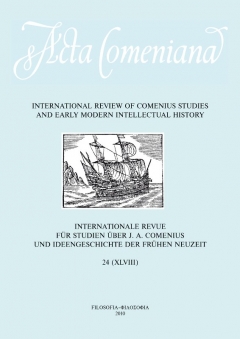 published: 29th August 2011
260 pages, paperback
ISBN 978-80-7007-355-1