Acta Comeniana 25
The volume of Acta Comeniana 25 (XLIX) comprises eight studies with the recent results of research on early modern intellectual history and history of philosophy. The extensive review section reviews Czech, German, English, Hungarian, and Polish publications, as well as the recently published volume XII of The Oxford Francis Bacon. The contributions are published in English or German.
Jan Herůfek deals with the Jewish-Arabian sources of Pico della Mirandola's (1463–1494) thinking: Elia del Medigo, Jochanan Alemanno and above all Flavius Mithridates. Pál Ács queries why the Ottoman history was not processed in an authentic and scholarly way in sixteenth- and seventeenth-century Hungary, and investigates the work of the great but neglected historian Johannes Löwenklau (1541–1594). Howard Hotson traces the intellectual genealogy of Johann Heinrich Alsted (1558–1638) as a bibliographical as well as a biographical exercise. Pierre-Olivier Léchot explores the confessional and intellectual implications of the hermeneutics of John Dury (c. 1600–1680). Jiří Just puts forth new reports about the pre-exile activity of Jan Amos Comenius as acquired from the Archive of Matouš Konečný, discovered in Mladá Boleslav in 2006. Mirjam de Baar focuses on the epistolary practice and strategies of Antoinette Bourignon (1616–1680), a seventeenth-century Flemish mystic and prophetess. Marie Ryantová deals with the life and activities of Jiří František Holík (c. 1634–between 1707 and 1710), a former Dominican censor and later a Lutheran Convert and Bohemian Exile. Martina Lisá presents the results of the most recent German research on the issues of early modern exile and migration, putting a special emphasis on the Bohemian Post-White Mountain exile.

Published ten or more years ago, therefore, the price has been reduced to 50 percent.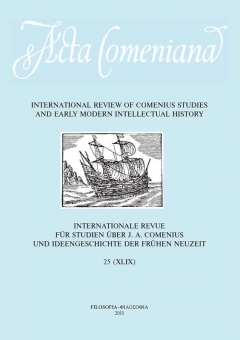 published: 1st October 2012
323 pages, paperback
ISBN 978-80-7007-373-5